$239,499 Reduced July 14th
Contact Todd Barber 252-353-9094 or 941-720-7549 (C)
[Note: This site is not just designed to sell you a house it's designed to help you learn about our area and to make good choices. We're offering an exceptional house and we want you to be totally happy with your choice....be a picky buyer learn more! Don't expect to find the perfect house in a 5 minute showing...research it. We'll put as much up here for you as we can if you don't see it call us and we'll photo it and post it!. Enjoy the many links to things in Greenville and feel free call "just to ask dumb questions" no pressure. Enjoy your house hunting it's always exciting when you get to upgrade your nest! We are NOT A Realator...just selling a house by owner.]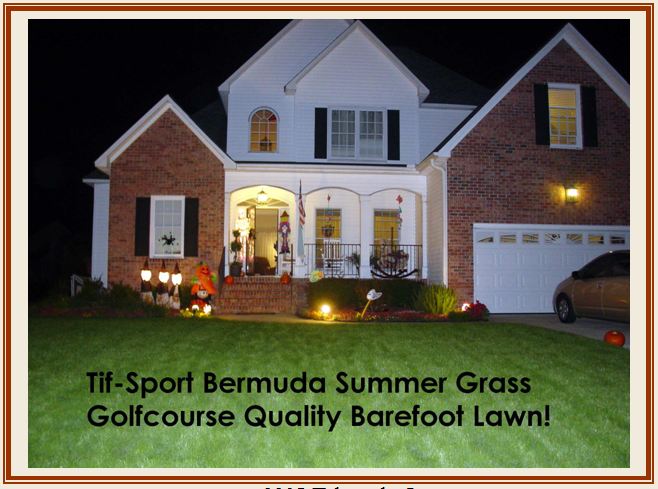 (for view in Winter click here)
Lee Cherry Custom Built 3/4 Bedroom with 2 1/2 bath house in a well established neighborhood (Tucker Estates). Outstanding well maintained house with an oversized deck, hot tub (not included in offered price), Sun-room and other features making it a unique property for the area. The home sports a 2 car garage and a golf course quality lawn as well as a truely unique playhouse with a built in climbing wall. It's the perfect family home.…
Features and Facts

Room Sizes

Public Schools

Private Schools

Costs

Asking price: $256,000
Property taxes: $2,900
No association fees!
Only one bill from the city covers electric, sewer, trash, water and gas!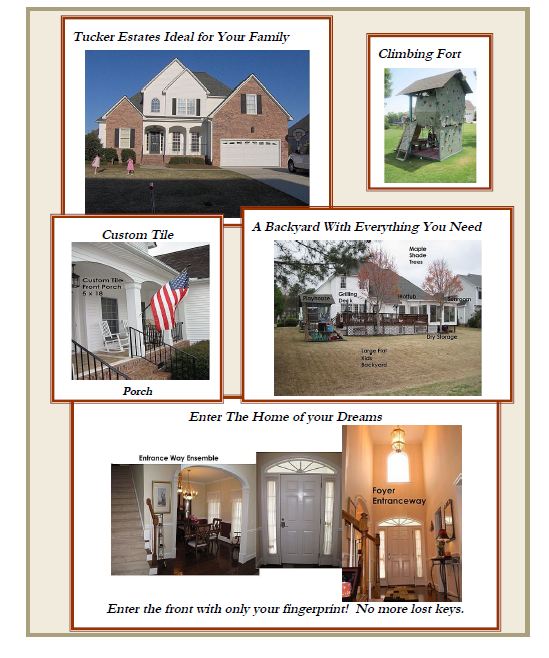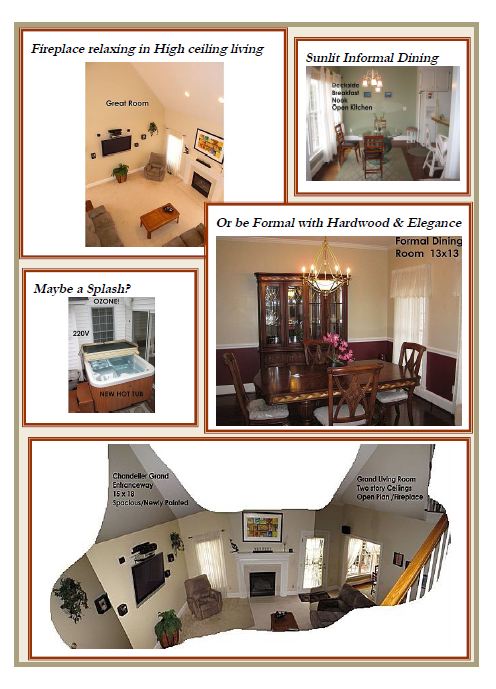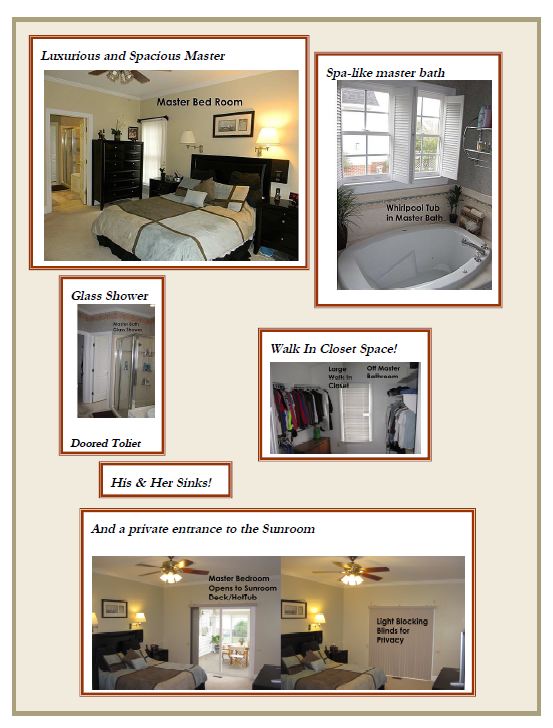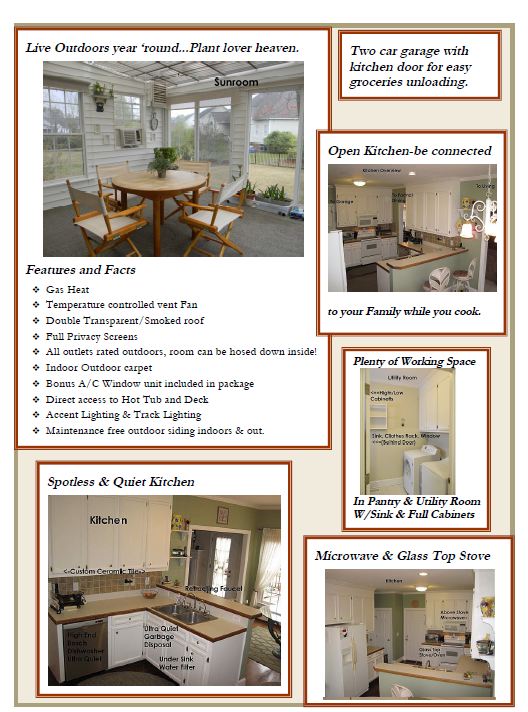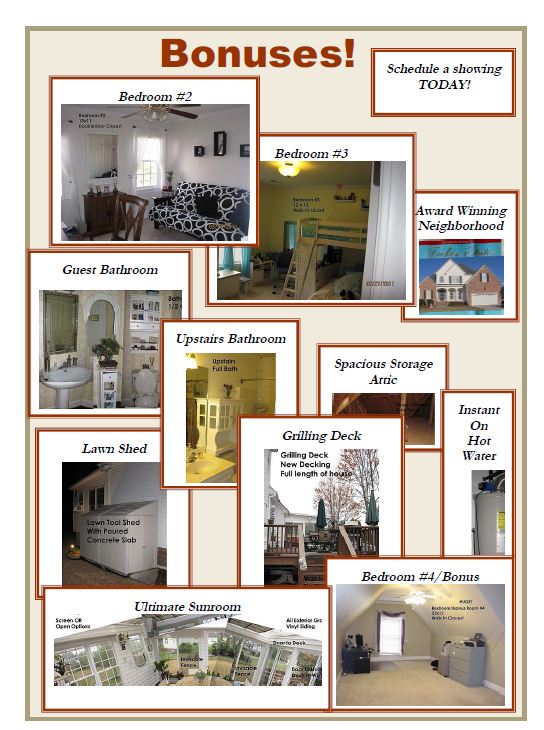 Neighborhood Description
One of Greenville's safest and most well known-Tucker Estates
Greenville's outstanding family neighborhood.

Central location to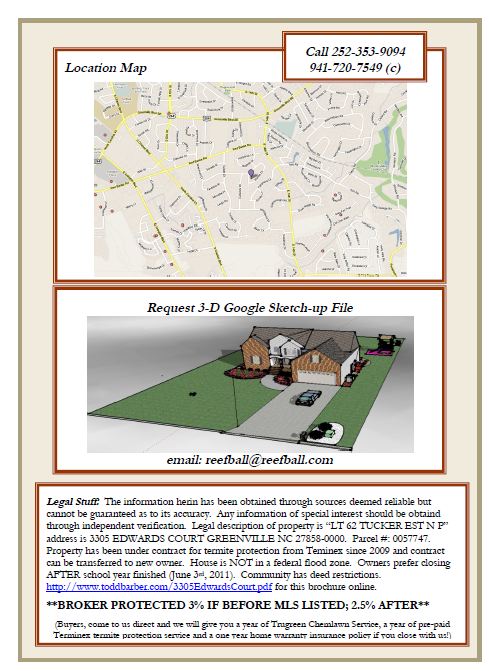 3-D Sketch Up File Here-3305 Edwards Court
Legal Stuff: The information herin has been obtained through sources deemed reliable but cannot be guaranteed as to its accuracy. Any information of special interest should be obtaind through independent verification. Legal description of property is "LT 62 TUCKER EST N P" address is 3305 EDWARDS COURT GREENVILLE NC 27858-0000. Recorded Deed Book 2008, Page 40; Parcel #: 0057747. Property has been under contract for termite protection from Teminex since 2009 and contract can be transferred to new owner. House is NOT in a federal flood zone. . http://www.toddbarber.com/3305EdwardsCourt.pdf for this brochure in a printable format.
***BROKERS: Your PROTECTED 2.5%**
**DIRECT BUYERS: Your protected too: come to us direct and we will give you a year of Trugreen Chemlawn Service, and a year of pre-paid Terminex termite protection service if you close with us!)
*Pitt County Hospital System Employees OR ECU Employees: To recognize your good credit and community contribution, if the buyer works for, or has signed contracts for future employment with Pitt County Hospital System OR ECU we will throw in a year's worth of monthly carpet cleaning OR a $2,000 carpet allowance.
IT'S A BUYERS MARKET…BE PICKY AND GET WHAT YOU REALLY WANT WITH LOW INTEREST RATES AND A TURNING MARKET!
CONTACT TODD BARBER
252 353 9094
941 720 7549 (C)
SKYPE TODDBARBER
Not exactly what you want? Here's some add on options:
More Pictures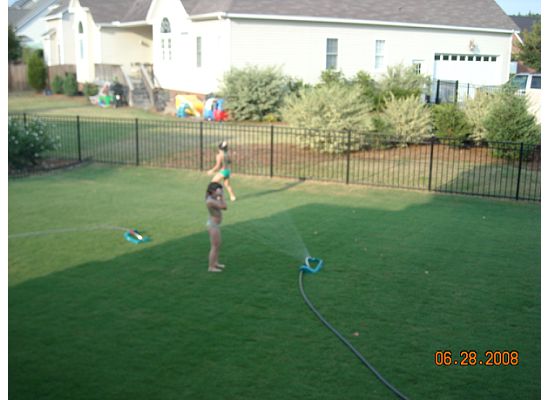 More summer pictues.....taken 4/48/2011